ABOUT THE
BUILDING BLOCKS FOR
IMPACT CAPITAL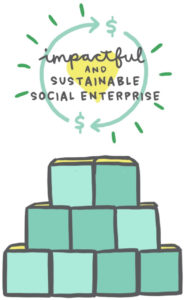 The Building Blocks for Impact Capital (BB4IC) Tool is an online diagnostic tool designed to help early-stage social enterprises identify and assess the 'building blocks' they need to have in place to access social finance and funding. Generally, this will be to fund pre-startup activities such as piloting, business planning and financial modelling, or it will be startup capital to fund the commencement of operations in earnest.
The BB4IC Tool is free to access! You can access the BB4IC Tool at the end of this page
The Building Blocks for Impact Capital Tool has been developed with the generous support of the Victorian Government, Department of Jobs, Precincts and Regions and leverages the knowledge generated through the Swinburne Social Startup Studio, which is kindly funded by Equity Trustees.
The BB4IC Tool consists of a series of questions and possible responses. The questions will help you to identify where your early-stage social enterprise is strong and where there is more work to do, so that you can access the pre-startup and startup capital you need.
The answers you provide to the BB4IC questions will inform your diagnostic; you can take the diagnostic again once you have addressed some of the areas that the BB4IC Tool highlights you need to work on. There are no right, or wrong responses so choose the response that best describes where you are currently at.
For social enterprises looking for more targeted and tailored support to address the results of your diagnostic, the Studio offers the Aviate Program – a bespoke program for early-stage social enterprises. You can read more about Aviate and apply for the Program here.
Click the button below to access the BB4IC Tool