The Studio's Aviate Program offers tailored support to help build impactful and sustainable social enterprises. 
Aviate is a support program for early-stage social enterprises. Our approach reflects the social entrepreneurship journey; it is a non-linear, supportive, adaptive and iterative method to help build impact and sustainable social enterprises. That means that support responds to and is designed around the needs of each social enterprise and the stage of its journey.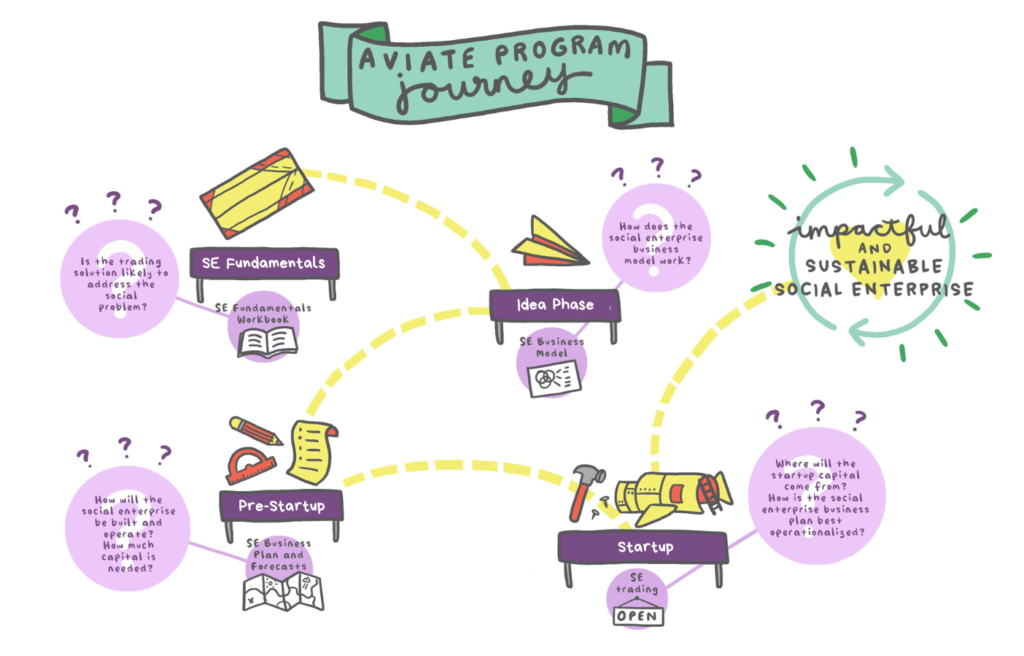 We take applications for Social Enterprises who are on any part of this journey. Ultimately, the end goal of the Aviate Program is to build impactful and sustainable social enterprises. 
We seek applications to join The Aviate Program from ventures that are:
With a primary strategic goal of addressing a social (or environmental) problem via a trading business model. See our Fundamentals video on this if you're not sure.
Anywhere in the journey from an identified opportunity or idea right through to the point of having a clear plan to build (and fund) a social enterprise that is impactful and sustainable. This will generally be between zero and five years…but it is more about the stage that the enterprise is at rather than how long it has taken.
READY + WILLING TO FLEX THEIR 'ADAPTIVE MUSCLE'
Comfortable with a process that is reflective and adaptive, challenging and non-linear.
COMFORTABLE PARTICIPATING IN KNOWLEDGE GENERATION AND CAPTURE
When enterprises join Aviate, they also agree to be a research participant in The Studio's research program. The Studio is committed to building and sharing social enterprise knowledge publicly and freely.
As a guide, we suggest that Aviate Enterprises allow at least two days per week to work on building their social enterprise. We also ask all Aviate Enterprises to make a small financial contribution towards the cost of their support (see our FAQ).
WHAT IS THE APPLICATION PROCESS?
ARE THERE APPLICATION DEADLINES?
No, however we are a small team and can only support so many social enterprises at any time. So, if you think you're ready to apply for Aviate, we recommend you apply as soon as you're able. Your application doesn't have to be perfect and we're here to answer any questions. 
Click the button below to start your Aviate journey.

   The application form is an online survey and should take up to 30 minutes, provided your information is ready to go. You will need:
Your contact details and those of any co-founders

Business details like ABN, if available

Details of the social problem your enterprise addresses

Your Building Blocks for Impact Capital Diagnostic